HONOURABLE AWARDEES ABOUT THE AWARD
1996

1997
1998
2000
2002
2003
2005
2006
2008
2009
2010
2011
2011
2012
2013
2014
2015
2016
2018
2019
2020
2022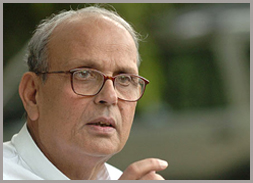 Hon. V.P. Singh
Former Prime Minister of India

Vishwanath Pratap Singh Indian politician and government official, was the eighth Prime Minister of India (1989–90) and the 41st nominal Raja Bahadur (ruler) of the northern kingdom of Manda.
Vishwanath Pratap Singh is known for trying to improve the lot of India's lower castes in his short term as Prime Minister. Singh was renowned for his obsession with honesty and his willingness to sacrifice office.
His most significant undertaking, however, was to try to implement the long-shelved recommendations of the Mandal Commission of 1979-80, a government-sponsored inquiry that had suggested setting aside a fixed quota of government jobs for India's poorest people, the so-called backward castes.