HONOURABLE AWARDEES ABOUT THE AWARD
1996
1997
1998
2000
2002
2003
2005
2006
2008

2009
2010
2011
2011
2012
2013
2014
2015
2016
2018
2019
2020
2022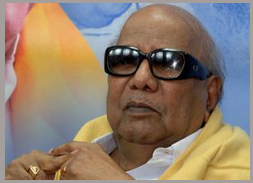 Dr. Kalaignar M Karunanidhi
Former Chief Minister,
Tamilnadu,
India

Kalaignar M Karunanidhi is one of India's most senior political figures who continues to be an active part of Indian politics. He has been a part of the founding members of the Dravida Munnetra Kazhagam (DMK) and led the party since 1969.
With his zest for social work, he has been the strongest force to his party members and his supporters. M. Karunanidhi has been fondly referred to as "Kalaignar" and continues to wield an unshakable position in Tamil Nadu's politics. Besides his literary contribution to Tamil literature he has also well known for his social participation and facilitating the poor
During his political career Karunanidhi has fought for several social causes and helping to revive socio-economic conditions. His free insurance scheme has been a boon to many families in the rural parts of Tamil Nadu and on the industrial front Kalaignar continues to equip the state economy by focusing on the growth and development of the state.