HONOURABLE AWARDEES ABOUT THE AWARD
1996
1997
1998
2000

2002
2003
2005
2006
2008
2009
2010
2011
2011
2012
2013
2014
2015
2016
2018
2019
2020
2022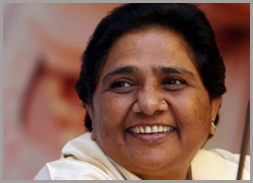 Hon. Mayawati
Former Chief Minister,
Uttarpradesh,
India

Mayawati, former chief minister of Uttar Pradesh and the first dalit woman to hold the post in any Indian state, had her beginnings when she joined active politics when the Bahujan Samaj Party (BSP) was formed in 1984.
She served four terms as Chief Minister of Uttar Pradesh (UP) as head of the Bahujan Samaj Party (BSP), which focuses on a platform of social change to improve the welfare of the weakest strata of Indian society—the Bahujans or Dalits, Other Backward Classes, and religious minorities.
Mayawati's rise from humble beginnings has been called a "miracle of democracy" by P. V. Narasimha Rao, former Prime Minister of India.