HONOURABLE AWARDEES ABOUT THE AWARD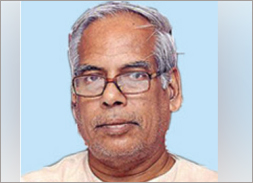 Prof.Dhaneswar Sahoo
President,
Odisha Rationalist Society,
Bhubaneshwar, India

Born in 1949 in a village named Bhuban in the district of Dhenkanal, Odisha. Dhaneswar Sahoo Joined Odisha Education Service in 1974 and serving indifferent government colleges retired from BJB Autonomous college, Bhubaneswar in 2007 as HOD, Philosophy.
Dhaneswar Sahoo founded the Odisha Rationalist Society which has been working in Odisha to promote rationalism, humanism, social justice and human dignity and to fight against superstition and social discrimination. He had a casteless, priestless and dowryless marriage following the path of Periyar's self respect marriage.
Known in Odisha as a columnist, essayist and rationalist. Sahoo have authored ten books in odia and two books in English and nearly 30 research articles to his credit published in different journals. A recipient of Odia Sahitya Academy Award for his book Sanskruti O Sarvodaya in 2010, his notable works include the translation works of Gora, Ambedkar and Periyar into Odia.