HONOURABLE AWARDEES ABOUT THE AWARD
1996
1997
1998
2000
2002
2003
2005
2006
2008
2009

2010
2011
2011
2012
2013
2014
2015
2016
2018
2019
2020
2022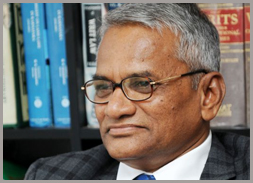 Prof. Ravivarma Kumar
Advocate General,
Karnataka,
India

Fifty years of public life, four decades of professional life and thirty-five years teaching law, Prof. Ravivarma Kumar has emerged as a front ranking profounder and propagator of social justice (affirmative action) policies in India. Popular for expounding the Constitution, socialist, thinker and crusader, Prof. Ravivarma Kumar is presently the Advocate-General for Karnataka.
Championing the cause of the have-nots in general, the Scheduled Castes, Scheduled Tribes and Backward Classes in particular, Prof. Ravivarma Kumar has conducted nearly forty thousand cases on behalf of the said people. Professionally, he has specialized in the field of Constitutional Law, Social Justice, Affirmative Action, Reservation Policies, Human Rights, Public Interest Litigation, Election Law, Service Law and Law on Education.
He has also been at the forefront of the legal battle to secure fifty percent reservation in favour of women in Political Institutions particularly the Local Bodies. He has championed the causes of landless labourers and tenants and has conducted over fifteen thousand cases on behalf of tenants to secure ownership on principle of land to the tiller policy under the Karnataka Land Reforms Act.