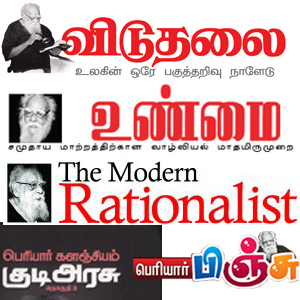 In 1925 he founded the Self-Respect Movement
In 1925 he founded the Self-Respect Movement, a socio-political organisation of which he was the President. He started a weekly, "Kudi Arasu" (Republic) and later a daily, "Viduthalai" (Freedom) to propagate the principles of his movement. In particular, Ramasami preached inter caste marriages and re-marriage of widows. It was his firm conviction that orthodoxy, superstition, social discrimination and may other evils which persisted in the society should go. He waged a relentless battle against these till the very end of his life. In 1938 E.V.R. was elected President of the Justice Party. He started a movement in the cause of Tamil during this period. At the famous Salem Conference in 1944 he and his lieutenant the late C.N. Annadurai (later Chief Minister of Tamil Nadu) converted the Justice Party into a new organisation called "Dravidar Kazhagam." An ardent fighter, an avowed revolutionary and a hard-headed rationalist E.V.R. was simple and humane. He passed away on December 24, 1973 when he was 94.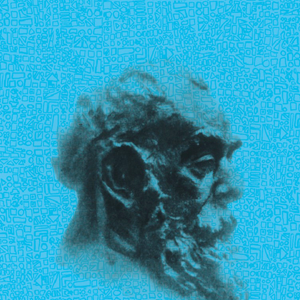 UNESCO (The United Nations Educational, Scientific and Cultural Organisation), a functional wing of United Nations Organisation (UNO) has recognised the noble task of Periyar and honoured him with the citation, during his lifetime itself.
Periyar,
The Prophet of the new age;
The Socrates of South East Asia;
Father of the Social Reform Movement;
And enemy of ignorance, superstitions,
meaningless customs and base manners.
Self Respect and Rationalism are the integral traits of every human and his / her effectiveness and happiness are realized in their awareness and actualization
Historic 90 Year
The historic as well as revolutionary Self-Respect Movement has completed 90 years. Self-Respect is being suppressed by the discriminative and exploiting sect, in varied degrees with different levels of awareness and knowledge of the toiling masses throughout the world. Confluence of Humanists at Germany will provide a platform to deliberate on the level of awareness and effectiveness of commanding self respect by the population of the respective countries. The outcome of the deliberations at the international conference will facilitate the effectiveness of every human through the ways and means of carving out for the establishment of egalitarian society. All is meant for all. All resources have to be equitably shared by all. Actualization of Self-Respect by every human will make the humanity in oneness. Humanism will flourish among humans.
Doctrine of Self - Respect Movement
The philosophy of Self - Respect Movement is known to the world. The cause and effect theory is accepted by the wise world. The human being seeks the reasons for everything. It has begun to conduct research of nature. A life with ignorance is considered as a slave's life. This is the doctrine of Self - Respect Movement.